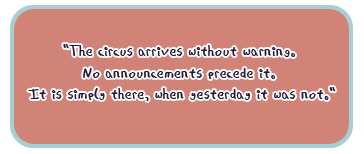 The Night Circus,
Le Cirque des Rêves,
indulges its readers with pages after pages of dreamlike and graphic imagery. I found myself lost in its utterly captivating and magical world, with Morgenstern's beautiful narrative it is difficult to want to be found.
Author: Morgenstern, Erin
Publisher: Doubleday
Date Published: 2011 September 13
Genre: Fantasy/Romance
Hardbound: 400 pages
Rating: 3/5 stars


Celia has a natural gift for magic, she had been an unknown daughter until her mother committed suicide and she was brought to her father, Hector Bowen, also known as Prospero the Enchanter who did not want to have anything to do with her until he found out about her gift and decided that she will be his next student, his next champion in a duel.
Marco was chosen from the orphanage by the man in gray suit to be his student after answering a few questions, all he knows is that he is to play in a game, that was the reason Alexander had taken him in, he did not know how the game is to be played and how the winner is to be determined or if he is prepared for it all, because all he has done for years is to read books.
Other characters mentioned in this review: Widget and Poppet, the twins, they were born to the wild cat tamer and his wife on the circus' opening night, they have bright red hair and like Celia, they have natural magical abilities.
Bailey, grew up in a farm, his father wants him to inherit the farm, his grandmother wants him to study in Harvard but his dream is something else, something impossible. He met Poppy when they were children, when his sister and their friends dared him to enter the circus in midday.
Isobel is the circus' tarot reader, she ran away from her fiancé and she fell in love with Marco, joining the circus to help him.
Chandresh is the original proprietor of the circus.
I am giving it three stars because while I thought that Morgenstern's imagery was exceptional and a slow pace is just right for the book, (something other readers might have a different opinion on) allowing me to enjoy every circus attraction, my favorite - the lighting of the bonfire, arrow tips lit with ordinary fire were shot into the cauldron in the courtyard, setting the bonfire aflame with a different color each time the fanciful circus clock chimed, until the bonfire flames turned white and the twins were born; I think that the book is saturated with details and as much as I love details like how the color of Celia's gown would change to match the person closest to her, I would have wanted more of the story.
The story didn't come to life for me. Her (Morgenstern's) main characters – Celia and Marco were flat, that they fell irrevocably in love with each other by the end of the book wasn't believable, when Celia first saw Marco and a long time after that, she didn't show any interest for him, they just didn't have any meaningful encounters before Celia found out that Marco was her opponent which was more than halfway into the book.
If their opus is what binds them together, then wouldn't Celia, even before knowing who her opponent is, have this inexplicable attraction to Marco? That when she (Celia) finds out that Marco was her opponent all along, she would finally understand why she felt inextricably linked to him, but that didn't happen.
When they first met, it was obvious that Marco found Celia attractive, but is this enough for him to sacrifice everything? He liked Isobel at first too, I even liked their first kiss! And even when he knew that Isobel was in love with him, and that he couldn't return her feelings, he just avoided her. Celia was right to doubt his intentions.
Events do not unfold in a linear manner, we are taken back and forth in time, later on some chapters confused me so I had to start noting when a particular event happened but the story flows smoothly and this style made me so curious as to what part Bailey would play; sometimes we see parts of the circus as a patron and we experience the attractions ourselves, I love these bits than looking at the room through a character's eyes.
As I was reading the last fifty pages of the book, I was wondering how Morgenstern would be able to tie everything together with only fifty pages left.
She was able to do so, nicely, Bailey was key to tying the whole story together in the end. I liked how the story ended for Bailey, (except Marco binding him, I thought that that was unnecessary) Widget, Poppet, and Chandresh. Lastly, I thought Hector/Prospero deserved exactly what he did to himself!
When I read the words "fierce competition" between the two magicians on the book cover, the movie, "The Prestige" came to my mind and I thought the book would be something similar with a love story twist and that made me buy the book. Morgenstern's narrative and imagery were enthralling but the plot disappoints. I'd recommend the book to those who haven't decided what to read next yet.