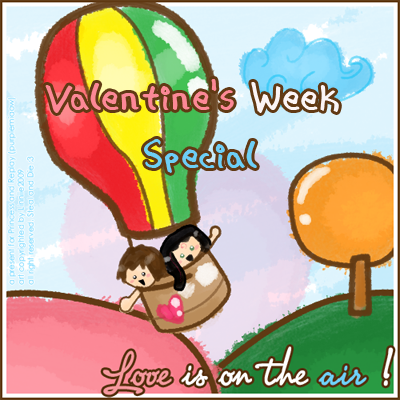 Hi all! Valentine's week is coming up and if you haven't picked a book or two to read yet with those chocolates you're going to get then I would love to tell you about my Valentine's week picks!
But before that, I'd like to say that my really cute header art was a gift two Valentine's ago from my very lovely friend Supper frog Linnie! And yes it's love is
on
the air!
Title:
Bewitching (Kendra Chronicles)
Publisher:
Harpercollins Publishers Inc.
To be released:
14 February 2012 (Hardcover only)
My first Valentine's pick! Kendra is a witch and Beastly was just one of her spells! In Bewitching she tries to help Emma whose stepsister, Lisette is as conniving as it gets in a spellbinding retelling of Cinderella.
For as long as Emma could remember, her dad has always been her dad even if he wasn't her biological father, and one day, her dad told her that he has a daughter, a real one, who would be living with them, the gorgeous blonde Lisette whose mother had just died of cancer and arrives with only one trash bag carrying all her belongings. As the story unfolds, my heart really broke - for Emma, yes Emma, the plain stepsister, not Lisette, because Lisette took away everything and anyone Emma loved out of spite.
So here comes odd Kendra to the rescue! And staying true to the fairy tale, she magically appears in Lisette's room to be all fairy godmotherly and change Lisette's clothes to effortlessly cool for a young super star's by-invitation-only-very-private party, no pumpkins involved of course (hmm maybe one which got smashed pretty bad) and although there was a mouse in the story he wasn't turned into a coachman or anything.
I'm sure you're pretty confused right now, if Kendra is helping Emma and Lisette is the real mean girl, then why is Kendra using her magic so that Lisette could go to the party??
But if I tell you that little secret then Kendra would have to turn you and me (eep!) into a frog! So I'll talk about something else then, in this story there is a boy, a geeky cute red haired boy named Warner who became Emma's boyfriend and for a short while Emma was happy, then he broke up with her because of Lisette, and Emma was even more miserable seeing Warner and Lisette together in school all the time then she remembers what Kendra told her about helping her get Warren back...it's just that, even if turning Kyle into a beast had been a success, sometimes (well most of the time actually) Kendra helping ends up with her being hanged to death, a marriage refusal, or a mermaid becoming a daughter of the air, meaning the mermaid died.
Spotlight back to Warren. Warren really loves Emma but he believed Lisette when she said that Emma didn't want to be sisters, kicked her out of her room and treated her like a servant, he didn't even asked Emma for her side of the story and then he was kissing Lisette behind Emma's back! When he was breaking up with Emma, Emma kept on babbling so that he won't be able to say the words (which broke my heart again) and I wanted to hit that boy! I still think that even if Lisette

had been kicked out of her room and had to do chores, Warner still shouldn't have gone out with Lisette while he was still Emma's boyfriend.
But fret not because there is a Happily ever after ending which is INCREDIBLE! I was a little kid again, reading Cinderella for the first time! Bewitching was easily a five stars for me with superb character development, beautiful and easy prose, heartbreaking moments, (one of my favorites was when Emma wanted to run to her father and tell him she's still his little girl), and the perfect ending!

This book is part of the following challenge(s):