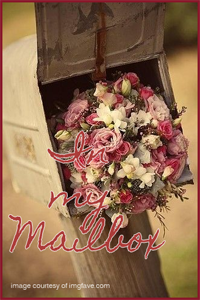 In my Mailbox is a weekly meme hosted by the Story Siren. This post will be featuring books I have bought/been gifted/traded at the start of the week.
I won't be able to review all the books I've received but would nevertheless love to feature them and maybe share some of my thoughts on them here.
Hi all! How are you all doing? I hope you're all having a sweet Valentine's day! I'm going out on a date in a few but before I do, here's my haul for the week!
*** Daughter of Smoke and Bone by Laini Taylor in Paperback - even after reading the book description I still have no idea what this book is about!

*** Bloodlines by Richelle Mead in Hardcover - gosh Mead has written A LOT of books, I haven't even finished Vampire Academy (the first in the series) yet! *

** Graveminder by Melissa Marr in Hardcover - I thought Marr's fae world building in her Wicked Lovely series was unmatched, so I was beyond thrilled to finally get a copy of her horror novel! Which I had to wait for months for!

*** Hourglass by Myra McEntire in Hardcover - another time travel story! And I saw a lot of great reviews about it too.

*** I am Number Four & The Power of Six by Pittacus Lore in Paperback - The movie was great, can't wait to get started on this series and recommend it to my brother too!
I'd love to know: what's in your mailbox this week?