In my Mailbox is a weekly meme hosted by the Story Siren. This post will be featuring books I have bought/been gifted/traded at the start of the week.
I won't be able to review all the books I've received but would nevertheless love to feature them and maybe share some of my thoughts on them here.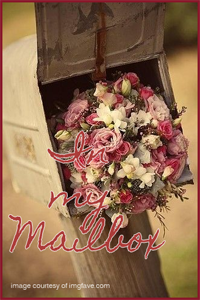 Hello lovelies! I got a lot of books I can't wait to start reading this week! Bought the first two books last Friday, I already have a review of Born Wicked up, with my review of Harbinger coming up tomorrow. I might not read Wings of the Wicked, I thought most of the actions scenes in Angelfire were repetitive, but still bought the Kindle format, I'm OCD that way. I still don't have A Beautiful Evil yet but it's supposed to be released today and I'll get a Kindle copy as soon as it is available so I'll just put it in the list anyway. Here are this week's haul:
Born Wicked by Jessica Spotswood
Harbinger by Sara Wilson Etienne
Darkness Becomes Her by Kelly Keaton
A Beautiful Evil by Kelly Keaton
The Iron Witch by Karen Mahoney
The Wood Queen by Karen Mahoney
Dead Beautiful by Yvonne Woon
Life Eternal by Yvonne Woon
The Fine Art of Truth or Dare by Melissa Jensen
Fated by Sarah Alderson
Scarlet by A. C. Gaughen
Wings of the Wicked by Courtney Allison Moulton
How about you? What's in your mailbox this week?