Hi all! And welcome to my little bookworm corner where I will post about the bookworm behind the blog and you can find out all about ME! Mwahaha!
This week, I have been tagged! I'll be answering some of the questions of my lovely tag-er Sarah here. I sure had fun with it so here we go..
When I'm not reading, I'm..
cooking Filipino dishes, learning latin dance, and playing girly games like Pet Society and Poupeegirl!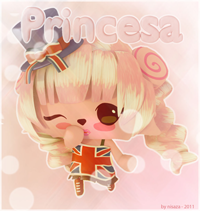 Photo above is of my pet Princess drawn in 3d by nisaza! And I have a blog for my poupee (doll) girl's outfits here.
When you were a kid what did you want to be when you grew up?
A lawyer. I've always wanted to say "Objection your Honor!" in court. (And I have)
What was your favorite book as a child and why?
The Three Musketeers by Alexandre Dumas. Reading it felt like going on an adventure!
What is your favorite Disney movie? If you haven't watched or don't care for Disney, what's your favorite cartoon?
My favorite Disney movie would be Cinderella, when I first watched it as a kid I was squealing and running around our sala when Jaq, Gus, and Cinderella's other friends were trying to get pieces for her dress and when they were stealing that key when her stepmother locked her in her room to stop her from fitting the glass slipper! And my favorite cartoon would be Sailormoon! I even memorized all the poses and lines she would say before fighting the monster (in Japanese!), and my cousins and I would paint our nails (badly) before watching so we could do all the lines together!
What was the last book that made you cry?
I cry a lot! Scarlet by A.C. Gaughen, made me cry when Scar misunderstood Rob telling her he could see her, she thought he could see her black soul, and how she will never deserve to be looked upon by him with love because of all her pain and sins. And hearing him say she's a whore, it confirms to her what he thinks of her and it's heart breaking!
Thank you Sarah of That Teenage Feeling for tagging me! I had so much fun! I will try my best to come up with a new set of questions and tag others!